Participate in Reporting Invasive Species
What is Early Detection and Rapid Response (EDRR)?
The goal of EDRR is to find and control invasive plants when populations are first becoming established. Similar to a garden, a few weeds are easier to control than a large number of them. Controlling large infestations is extremely expensive and not as likely to succeed as managing small infestations. Informed citizens on the lookout for invasive weeds are essential to an effective EDRR program.
Why Participate
Invasive species are detrimental to natural resource and agricultural production, and may limit subsistence and recreational activities. Finding invasive species early, before they are well established, provides the best chance to completely remove the infestation.
Several infestations were successfully found and reported by interested members of the public, allowing resource managers to quickly control the infestation. Resource managers need as many eyes on the lookout for these highly invasive species as possible.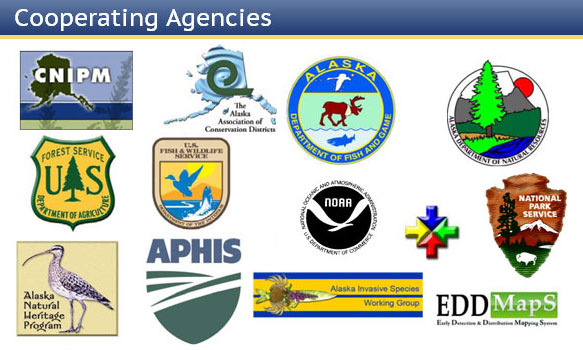 Guide to identifying and reporting infestations
If you would like obtain printed copies of the 'Report these Invaders' pamphlet, produced by the Alaska Committee for Noxious and Invasive Plants Management and Alaska Invasive Species Working Group, please contact the Invasive Plant Coordinator. These pamphlets contain all of the information on found on this site, plus a printed reporting form. Carry the 'Report these Invaders' booklet as a reference, wherever you go in Alaska, and do your part to help control invasive species in Alaska!
---