Alaska Plant Materials Center: Plant Flyers
Below is a searchable and sortable list of Plant Flyers created by past and present Plant Materials Center staff.
Visit our database of PMC Publications here. For additional assistance please contact the PMC directly.
PMC Programs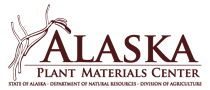 5310 S Bodenburg Spur
Palmer, AK 99645
Phone: 907-745-4469
Fax: 907-746-1568

Mon. - Fri.
8 a.m. - 4 p.m.
Click Map For Directions
View Larger Map
PMC Plant Flyers: Use and Cultivation of AK Native Plant Seeds