Invasive Plants and Agricultural Pest Management
Welcome to Alaska's Invasive Plant Program. Our program coordinates prevention, outreach and management strategies for invasive plant issues through collaboration with land managers, agencies, organizations and policy makers across Alaska. These efforts are guided by the implementation of our Strategic Plan and relevant noxious weed regulations and policies. Our goal is to help keep Alaska's pristine landscapes and natural resources free from impacts of noxious and invasive plants.
PMC Programs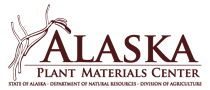 5310 S Bodenburg Spur
Palmer, AK 99645
Phone: 907-745-4469
Fax: 907-746-1568

Mon. - Fri.
8 a.m. - 4 p.m.
Click Map For Directions
View Larger Map
Elodea in Alaska
Statewide
Statewide Management Plan EA, April 2020
Statewide Finding of No Significant Impact, 2020
Mat-Su Borough
Alexander Creek Watershed Elodea EA, 2019
Alexander Creek Watershed Elodea EA, Finding of No Significant Impact, 2019
Anchorage
Amended Alexander Lake Environmental Assessment, September 2016
Elodea in Anchorage, a Project Update, 2015
The Integrated Pest Management Plan (IPM) for the eradication of elodea in Anchorage is currently in draft form and is available on request at the contact information below.
Anchorage Lakes Elodea Eradication Project: Environmental Assessment, June 2015
U.S. Department of the Interior Fish and Wildlife Service Region 7, Alaska. Finding of No Significant Impact
Sand Lake, Little Campbell, DeLong Lake (Anchorage) Pesticide use permit
Pesticide Use Permit Emergency Exemption for Elodea Control in Lake Hood
Cordova
Elodea and the Copper River Watershed Project
Fairbanks
Environmental Assessment, March 2017
Kenai
Sandpiper Lake Elodea Supplemental EA, 2019
Stormy and Daniels Lake Elodea Eradication Project: Environmental Assessment, 2013
Sport Lake Supplemental Environmental Assessment, April 2017
Kenai Peninsula Elodea management plan
For More Information Contact:
1-877-INVASIV (468-2748)
or contact Dan Coleman
Invasive Weeds and Agricultural Pest Coordinator
907-745-8721