Directory of Alaska Native Plant Sources
PMC Programs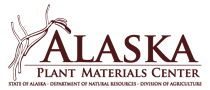 5310 S Bodenburg Spur
Palmer, AK 99645
Phone: 907-745-4469
Fax: 907-746-1568

Mon. - Fri.
8 a.m. - 4 p.m.
Click Map For Directions
View Larger Map
About the Directory of Alaska Native Plant Sources:
Seventh Edition
The Plant Materials Center (PMC) publishes the "Directory of Alaska Native Plant Sources" in response to numerous requests from the public, industry, and agencies for sources of native plant materials from Alaska. This Directory depends on the response of suppliers, and does not claim to include all producers or sellers of native Alaskan plants.
The PMC is not responsible for changes from the growers as to what plants they may have available. If you are aware of an omission or error, please email or contact the Plant Materials Center, at 907-745-4469.
Native plants from Alaska are needed for small and large scale revegetation projects, mine site rehabilitation, landscaping on public and private lands, stream bank restoration and habitat enhancement.
The purpose of this directory is to serve as a concise reference for consumers, a marketing tool for native plant and seed suppliers, and to encourage the production and use of Alaska native plants.
If you are involved with native plants, please visit or call. We are interested in working with you.
Know of a grower that should be on this list? Please visit our add a grower page and send us their details.
Add a grower to this directory