Industrial Hemp Pilot Program
The new law authorizes the Alaska Department of Natural Resources (DNR), through the Division of Agriculture, to create an Industrial Hemp Pilot Program to research the growth, cultivation and marketing of industrial hemp. The purpose of the pilot program is to increase the knowledge of how industrial hemp production, cultivation and marketing may increase agricultural production in Alaska and contribute to our economy.
PMC Programs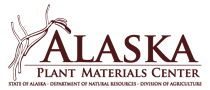 5310 S Bodenburg Spur
Palmer, AK 99645
Phone: 907-745-4469
Fax: 907-746-1568

Mon. - Fri.
8 a.m. - 4 p.m.
Click Map For Directions
View Larger Map
Due to the current situation, we are asking that all registrations be submitted electronically, preferably by email. Please call 907-745-4469 for further information.
What's New
Forms and Resources
For More Information Contact: