Invasive Plants and Agricultural Pest Management
Welcome to Alaska's Invasive Plant Program. Our program coordinates prevention, outreach and management strategies for invasive plant issues through collaboration with land managers, agencies, organizations and policy makers across Alaska. These efforts are guided by the implementation of our Strategic Plan and relevant noxious weed regulations and policies. Our goal is to help keep Alaska's pristine landscapes and natural resources free from impacts of noxious and invasive plants.
PMC Programs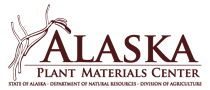 5310 S Bodenburg Spur
Palmer, AK 99645
Phone: 907-745-4469
Fax: 907-746-1568

Mon. - Fri.
8 a.m. - 4 p.m.
Click Map For Directions
View Larger Map
Invasives in the News
Links
PDFs
Alaska Invasive Species Partnership (AKISP) Links
Outreach Materials Published by the PMC
REPORT IT!
1-877-INVASIV (468-2748)
or contact Dan Coleman
Invasive Weeds and Agricultural Pest Coordinator
907-745-8721