Directory of Alaska Native Plant Sources
PMC Programs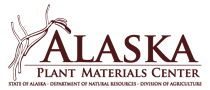 5310 S Bodenburg Spur
Palmer, AK 99645
Phone: 907-745-4469
Fax: 907-746-1568

Mon. - Fri.
8 a.m. - 4 p.m.
Click Map For Directions
View Larger Map
Adding or Changing Information
The Plant Materials Center (PMC) publishes the "Directory of Alaska Native Plant Sources" in response to numerous requests from the public, industry, and agencies for sources of native plant materials from Alaska. This Directory depends on the response of suppliers, and does not claim to include all producers or sellers of Alaskan native plants.
The PMC is not responsible for changes from the growers as to what plants they may have available. If you are aware of an omission or error, please contact the Plant Materials Center at the address below.
Rusty Foreaker
Alaska Plant Materials Center
5310 South Bodenburg Spur
Palmer, AK 99645
rusty.foreaker@alaska.gov